OUTREACH TO RESPOND TO HUMAN NEED BY LOVING SERVICE
St. Jude's is wholeheartedly committed to this third mark of mission. The proceeds from the Nearly New Shop, pancake suppers and the generous donations of parishioners support all the various ways that St. Jude's reaches out to the local community and the world with the love of Christ. The parish supports ongoing outreach activities from year to year, and responds to requests for emergency needs such as the Primate's World Relief and Development Fund's (PWRDF) call for cyclone relief in Africa https://pwrdf.org/ and the Urban Haven project need for emergency beds in London.  Parishioners contribute a variety of social causes in the city that are profiled in the Ministry of the Month calendar
BRIDGES OUT OF POVERTY / CIRCLES
https://goodwillindustries.ca/working-to-end-poverty/
St. Jude's believes with other Londoners that poverty is an antiquated notion that has no place in our city and are ready to do something about it. Every other month, a small St. Jude's team provides a nutritious home cooked dinner to the Leaders and Allies working together in the Circles program. The program is a community driven approach to ending poverty one family at a time. It is based on mentoring, befriending relationships that form between people in the middle class and people in poverty where all are empowered through training that awakens an authentic, real life, understanding of what poverty is. Systemic and lasting community change results as the mindset shifts and systems barriers in the way of eliminating poverty come into focus and solutions emerge. On hiatus while Covid restrictions in place
Contact: Glenda Hayward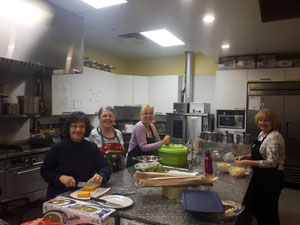 ST. PAUL'S SOCIAL SERVICE FOOD BANK SUNDAYS
St. Paul's Social Service Food Bank is a volunteer food donation program administered through Social Services at London's St. Paul's Cathedral. On the 2nd Sunday of each month year round, parishioners bring their offerings of food, diapers, personal care items and others as suggested by the coordinator at St Paul's. Parish volunteers deliver the items to the cathedral and provide a tally of the donations to give feedback and thanks to parishioners. At Christmas, parishioners provide cash and gift cards to support the Christmas Share program at the cathedral.
Contact: Laura and Doug Fairbairn
HOSPITALITY MEAL PROGRAMS
http://www.informationlondon.ca/31/meal_calendar_food_bank_list
St. Jude's parishioners are directly involved with 2 local hospitality meal programs. 
St. Jude's Breakfast program:
The first, third and fifth Saturday morning of each month, between 9 and 10:30 am, guests come into our All Saints Hall through the Adelaide East door and receive a nourishing breakfast.
Depending on availability, guests are also provided with toiletries, gently used clothing and footwear that have been donated by parishioners and friends.
In the future, when distancing rules are less stringent, we look forward to once again joining in fellowship with guests of all ages over a hot sit down breakfast.
This program was started at St. Alban the Martyr and we are proud to carry on their tradition of caring for the community.  
St. John the Evangelist Dinner program:
Every Saturday evening a hot meal is provided for the community at St. John the Evangelist Church on St. James Street.
St. Jude's has some volunteers who work with this program along with other church teams and Scouts and Western University.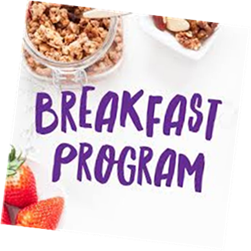 Our clothing shop in the lower level of the church has been open since 1995. All proceeds go to Outreach projects in the community and elsewhere. Donations of clean, like-new clothing and foot wear are welcome and then sold at very reasonable prices for men and women in sizes from small to 3X and for children of all ages. The shop is staffed by volunteers.
Items we don't use are distributed at no cost to people in need. Some clothing is sent up north to people in need in Kenora. Shipping to the north is paid for by the ACW.
Open year round. Closed during Holy Week and between Christmas and New Year's.
Open Tuesdays from 10am to noon and Saturdays from 9am to noon.
The West entrance is from the large parking lot. Wheelchair accessibility is available from the Adelaide Street entrance with prior arrangement or ringing the doorbell.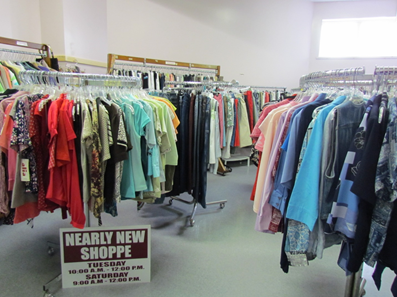 NORTH EAST BASIC NEEDS GROUP
St. Jude's is an active participant in this community group that works and advocates to ensure that basic needs such as food, housing and security are available to everyone. This group not only provides programming but encourages local government and businesses to get involved in the work of ensuring that basic needs are being met.
Current initiatives supported by St. Jude's include:
The London Food Coalition https://www.londonfoodcoalition.com/meet-the-team that collects perfectly good food from local businesses that would otherwise be put in the garbage and redirecting it to be used in various programs around the city aimed at feeding the hungry.
The summer snack program for children attending day camps.
providing space for LUSO programming for new comers and others in need in the north east commuities.
St. Jude's is a long time contributing member of LIRSA – the London Interfaith Refugee Sponsorship Alliance. Together with other churches, we provide financial aid to support families locating in London under the government refugee settlement programs. Parishioners donate household items along with their time and talents to assist newcomer families find a safe home in Canada.
Kensington Village – Highbury Avenue
Since the late 1990's volunteers from the Parish have shared their faith, music, and interests with seniors living in Kensington Village. Volunteers read scripture, lead prayers, provide music, and share a short homily or reflection using a traditional evening prayer order of service. After the 25 minute service, we gather for a time of fellowship, tea, and Timbits in the community kitchen. We share our stories, laugh together, and enjoy each other's company, as well as the refreshments!
on hiatus due to Covid restrictions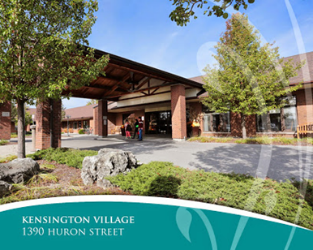 Chartwell Long Term Care Residence – Blackwater Road
Beginning in the spring of 2019, we began to provide a similar service at the Chartwell Long Term Care Residence close to St. Jude's. We meet in the cozy chapel just off the main reception area for a traditional service similar to the one at Kensington. Visiting once a month provides more continuity with the residents and they certainly enjoy the guitar or piano led singing. Chartwell graciously provides treats for the fellowship time afterwards. The joy and gratitude are shared equally with the residents and volunteers.
on hiatus due to Covid restrictions

Chartwell Long Term Care Residence – Blackwater Road
The Eucharist is offered in a meaningful service at Henley Place, a long term care facility on Fanshawe Park Road. Residents, family members and others are welcome to join with the priest from St. Jude's and our team.
on hiatus due to Covid restrictions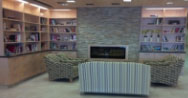 Bus routes that stop at the
Adelaide and Fanshawe
intersections are #16, #25, #92
 1537 Adelaide St N,
London, ON N5X 1K6
Office open from
9 am - 1 pm Monday to Friday